Community Health Improvement Plan (CHIP)
Greater Lowell Community Health Improvement Plan (CHIP)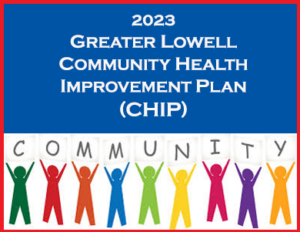 A Community Health Improvement Plan (CHIP) is a long-term, systematic effort to address public health problems in a community. The plan is based on the results of community health assessment activities, and is part of a community health improvement process, helping to set priorities, coordinate efforts, and target resources.
A CHIP FOR GREATER LOWELL
With a goal to create a long-term strategy to strengthen the area's health systems, our 2023 CHIP will be used as road map for health improvement over a three-year period, guiding the investment of resources of organizations with a stake in improving health for the residents of Lowell and the surrounding communities. Our CHIP mission: to turn data into action and working initiatives to address our community's top health priorities. While addressing specific health priorities, the overarching goal is always one of health equity, meeting the health needs not just for some, but for all.
Our CHIP planning process helps guide our region's investment of resources over
the next few years – but we need you to make it happen! We encourage everyone – from community members to front-line health workers – to join us in determining the course for the future. We will be starting the CHIP process in January at the task force level. Below are a list of upcoming dates where CHIP Planning will take place. Check our Community Calendar for locations and details!
Substance Use and Prevention Task Force — Tuesday, January 3, 2023, 9-11am
Housing & the Built Environment Task Force — Monday, January 9, 2023, 8:30-10am
Maternal Child Health Task Force — Wednesday, January 11, 2023, 9:30-11am
Wellness & Chronic Disease Task Force — Friday, January 20, 2023, 8:30-10am
Behavioral Health Task Force — Wednesday, January 25, 2023, 9-10:30am
Health Equity Task Force — Thursday, January 26, 2023, 10-11:30am
COVID Equity Task Force — Tuesday, January 31, 2023, 9:30-10:30am
OUR PLAN IN ACTION
Our 2020 CHIP, developed in part from data collected by the 2019 Community Health Needs Assessment, has had a significant impact on our region. Hundreds of community partners and dozens of community agencies and businesses collaborated to evaluate the community's health needs and create action plans surrounding those needs. At the GLHA, those plans have turned into action through two key routes: GLHA task forces and GLHA grant funding, which complement other partner-focused efforts throughout the region.
Read the full 2020 Lowell Community Health Improvement Plan (CHIP)
CREATING IMPACT
Although our CHIP is a working document, it is already creating impact. The CHIP process helped determine priority areas for grants, enabling the GLHA to distribute funds to the organizations on the front line of addressing our area's unmet health needs. Our Community Health Initiatives Grants have been awarded around health priorities and programs that met the specific areas of focus identified by the CHIP process: Access to Healthy Food, Asthma, Mental Health, Physical Activity, Social Determinants of Health, and Substance Use and Prevention.